To succeed with software, you need to recruit & hire a great Agency Partner.
Not just good — great.
So now ask, what does "great" mean?
Smart. Focused. Team-oriented, but with a healthy ego and drive.
How many darned developers are there in the world?
The figure in 2019 is 23.9 mil.
Source: Evans Data Global Developer Population and Demographic Study
While the companies are looking for talented and focused developers, the developers are too looking for organisations.
It takes a lot of work for a company to be profitable.
Hiring an Agency Partner or Remote Developers is an effective way to cut costs and save money.
It can even fill in the demand supply gap between businesses and the developers.
Businesses are feeling positive about their outsourcing relationships.
As a result, 57% of US companies increased their use of outsourcing.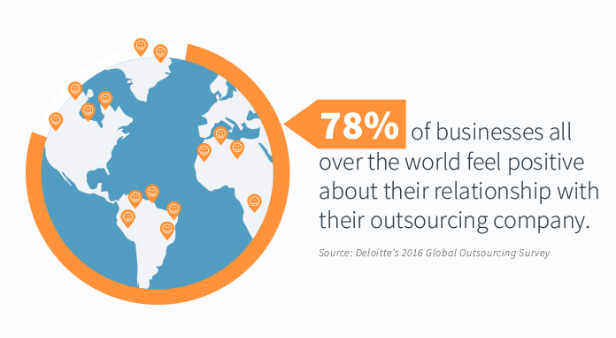 What do these Companies do right?
They follow a process and trust their gut.
Let's get started.
Know The Market
That's a lot of Agencies and Remote Developers out there, however it becomes terribly finite when you need to find a great one.
Let's take an example.
Suppose that your requirements are:
5+ years experienced Company
Between 10 – 25 employees
Laravel experience
User Interface (UI) development experience
Healthcare industry experience
If there are 2 million Agencies, 9/10 have 5+ years experience and have between 10 – 25 employees, 6/10 of those work with Laravel, 1/3 have UI development experience, 1/12 have healthcare industry experience.
You want to hire from only the top 10 percent of Agencies, then the fraction of the market is 3/4000.
That's about 3,000 possible hires.
So, researching and choosing the platforms which are best suited for hiring remote developers.
Define The Target
You don't always know exactly who you need to hire right away.
You just know, you need "great,".
Being more specific will help you attract the most appropriate Partner Agencies.
Still not sure what kind of Agency you're looking for?
Now is an excellent time to consider the definition carefully.
You need to release a draft or RFP.
RFP stands for Request for Proposal.
If done well, it can have a very significant impact on final pricing.
Here's a good template that you can use, if you want to quickly develop a Request for Proposal for your own project.
If done well, it can have a very significant impact on final pricing.
The essential idea is to release a draft RFP to the vendor community, and then solicit advice, suggestions, and feedback.
The feedback from vendors would certainly help to identify any vague or overlooked requirements.
Clear requirements make for accurate estimates.
Scan The Portfolio
A portfolio helps you to find the best suitable Agency and how they can help your team and business.
You can use one of the following easy portfolio ideas and give yourself permission to stop worrying about it and start doing work you enjoy:
Don't have your own samples? Just critique someone else's work
Portfolio samples don't always need to be finished projects
Show the results of your work — even if they aren't dramatic
Write (mini) case studies on your freelance clients…or anyone you've helped
You can use screenshots for more than just "creative" projects
Finally now you are ready with the profile you're looking for and a brief specification of your project.
Let's dive in to find your "The Partner Agency".
Screen The Partner Agency
There are different methods for screening potential partners.
Open Screening
Selective Screening
Negotiated Contracts
Method 1. Open Competitive Screening
It is an invitation that is open to all.
In this case, the screening is based on requirement specification that Partner Agencies can make their offers based on it (cf. Request for Proposal).
Method 2. Selective Screening
It is conducted in two stages.
First, Invitation to submit 'expressions of interest' is publicized.
Second, the companies that meet the qualification criteria are invited to submit their bids.
Method 3. Negotiated Contracts
Potential partners are contacted based on the partner selection criteria created in earlier phases.
A Request for Proposal is conducted.
This gives some idea of how interested the potential partners are, what are their capabilities, corporate culture, etc.
Evaluate Partner Agencies
Which of the Partner Agency makes a great match for your needs?
Now is the time that You and the Partner Agency know each other.
And yes multiple negotiations may also be going on concurrently.
The focus here is on the formal bargaining processes and the behaviour of both you and the partner Agency.
Henceforth a potential relationship is the outcome.
How will you assess both the Partner Agency and the Proposal?
Most important is: Is the supplier's proposal a desirable one in terms of costs, resources, and finances?
More questions that can define the suitability of the potential relationship:
What are the expectations of both parties of the relationship?
What are the possible needed investments and Partner Agencies readiness to invest?
What are the perceived uncertainties of the business deal?
Do the company cultures match?
Negotiate the Agreement
A good agreement is often seen as a basis of a successful relationship.
An Agreement is a part of the 'legal plan' that is an integral part of the company strategy.
This plan comprises of
Company's Contracting Process
Agreement Templates
IPR Strategy
Description of the Company Contract Portfolio
It helps both parties to avoid legal impediments which might affect the relationship harmfully and also helps both parties to clearly understand the terms of the relationship.
The entire agreement should always be reviewed by a competent legal counsel prior to signing.
Items to include in the agreement are:
Services that the seller is providing to the buyer
Monetary Terms
Escape Clauses
Warranties & Guarantees
Possible Audits
Patent Rights
Publicity
Recovering from a Disaster
Here's a good template that you can use, if you want to quickly send a Master Service Agreement to your customers.
Consider The Impact On Employees
Have you ever thought of outsourcing can be more disruptive than constructive strategy?
Social interactions are the basis of the organization's culture.
The results of outsourcing may not always be positive if employees are not treated in a constructive way.
It is most important to remember that, in any case, an employee who does the real work is the key item to the business.
That is why the impact on employees has to be considered carefully and never taken lightly.
Outsourcing affects the employees of the company – the ones left behind.
It is called "Corporate Survivors' syndrome".
Survivors syndrome symptoms lists
| | | | |
| --- | --- | --- | --- |
| fear | insecurity | uncertainty | frustration |
| resentment | anger | sadness | depression |
| guilt | injustice | betrayal | distrust |
| drop in productivity | increased turnover | decreased morale | increased absenteeism |
| decreased management credibility | employees becoming self-centered | narrow-minded | risk averse |
Sensitive handling of people and these processes is needed, reinforcing the positive sides of the change.
Establish The Relationship
Establishing a team for the long term relationship is essential for both you and the Partner Agency.
The team members of both the Companies may need training for their work.
Regular conference calls among team members helps everyone to influence their decisions.
Developing social and personal bonds between you and the Partner Agency helps in
Development of the relationship
Resolving the problematic situations
Establishing interaction pattern
Initially, formally designated roles are useful since they reduce uncertainty between parties.
As time goes by, the formal roles are no longer that important as the parties know each other on a more personal level.
These formal roles are, however, useful at least in problem situations.
Managing The Relationship
Relationships need Management.
Product or Service exchange and financial exchange is ofcourse the most important and natural part of a relationship.
It is also important to remember that a relationship cannot be managed one-sidedly but together, in agreement.
Lets dig in.
Step1: Monitor the relationship
Partners need to develop together some measuring mechanisms to be able to evaluate the partnership.
The evaluations should include both numerical and qualitative measures.
This should be based on the
Objectives identified in the business plan
Performance indicators
Communication flows
Level of trust
Flexibility
Formal evaluations should be performed regularly and in a short enough timespan.
Also, conflict handling gives good indication of the status of the relationship.
Step2: Report the results to all the parties
The reported results should be shared with all the parties involved.
This kind of evaluations helps in deepening the relationship between the partners.
This also helps in finding ways to work together in different, and often complicated, situations.
Step3: Adapt culturally to the partner
Cultural adaptation – e.g. shared language, shared processes and procedures, shared 'social and cultural traits and norms' – between the parties is important.
It helps the staff of both companies to understand each other and co-operate without anxiety.
Cultural adaptation partly comes naturally and evolves over time.
Some conscious actions may help the adaptation.
Step4: Exchange information
Information exchange can be thought of as good communication in order to get the relationship to work.
Cultural adaptation – understanding of unwritten rules and norms, attitudes and knowledge of the organizations, as well as the processes and procedures – cannot happen without both formal and informal information exchange.
It helps in preventing
unnecessary conflicts
finding solutions
fulfilling expectations
sharing common vision
increasing flexibility
One example of information exchange is sharing and analysing of the relationship evaluation reports by all the parties involved.
Meaningful and frequent communication is necessary to create real trust in the relationship.
Step5: Invest into the relationship
To give a message of commitment to the other party, some investment of time, knowledge, and resources is needed from both parties.
That gives a signal of strong commitment, since ending the relationship would cause the other party significant economic consequences.
Step6: Encourage social and personal bonding
Strong social and personal bonds between individuals from both parties help in creating an atmosphere of trust and commitment.
This helps in cultural adaptation, solving conflict situations, and achieving satisfaction.
Step7: Consider the future of the relationship
Outsourcing partnership relationships once started shouldn't be terminated for light reasons.
However, with time, expectations of the parties may change, technological advances may come to existence, misunderstandings and conflicts may arise; these often cause need for re-thinking the terms of the relationship.
Maybe there is simply a "desire to take the partnership 'to the next level'".
Anyhow, renegotiations are needed.
Often supplemental agreements fulfill the needs and the original agreement can be left untouched, thus preserving the relationship.
Conclusion
It isn't easy and simple.
You need to trust your gut.
The above steps are some ways which can help you in choosing the right Partner Agency for your organisation.
However, going a step further to maintain partner relationships will help you in growing your business while also ensuring savings on your expenditure.
Steve Jobs said "Great things in business are never done by one person. They are done by a team of people".
So, choose your team wisely by simply finding and hiring great remote developers.